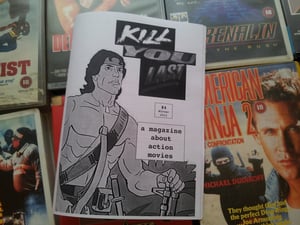 £

2.00
the world's first (?), only (?) and sexiest (!) action movie fanzine is now available!
This issue delights include a eulogy for the late, great Paul Walker, an examination of a completely insane RAMBO children's book, a look at the hidden meaning of JINGLE ALL THE WAY, reviews of ESCAPE PLAN, BULLET TO THE HEAD, THE LAST STAND, WANTED DEAD OR ALIVE (sort of), and giant robot dinosaur Highlander rip-off TV movie STEEL JUSTICE. Plus pin-ups, puzzles and comic strips! And yet more wonderful obscure and insane VHS covers handpicked by @VivaVHS!
Check out more pages here:
http://achinglychic.blogspot.co.uk/2013/12/normal-0-false-false-false-en-gb-ja-x.html
KILL YOU LAST is a zine about action films.
It's being sent from the UK, so international shipping will take longer.
48 pages, A5, b&w.