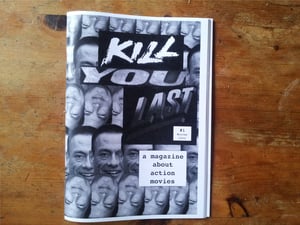 £

2.00
So, for whatever reason, I've made a fanzine about action movies. It's because I genuinely, unironically love action films, and no one takes them seriously, so this is an attempt to do something semi-intelligent and quarter-literate about them.
There's reviews of various films, from recent stuff like Haywire and Expendables 2, to forgotten Bruce Willis films from the 90s, to weird-ass straight to DVD crap starring 50 Cent. There's also interviews with outlaw film critic Vern, author of the excellent book Seagalogy, and the director of Chuck Norris Vs Communism, a new documentary about VHS tapes being smuggled into communist Romania.
There's also a gallery of awesome 80s VHS box art curated by the wonderful @VivaVHS.
Check out more pages here:
http://achinglychic.blogspot.co.uk/2012/12/kill-you-last-issue-1.html  

56 pages, A5, b&w.
(FYI, I'm shipping from the UK, so if you're in a different country, please bare in mind it'll take longer to get to you. Cheers.)
THIS IS SOLD OUT AT THE MOMENT, BUT IF YOU ARE REALLY AFTER ONE DROP ME A LINE AND I CAN PROBABLY SORT SOMETHING. OR THE OTHER ISSUES ARE IN STOCK, GO BUY ONE OF THOSE!